Adrenal Testing in Edmonton
Our Naturopathic Doctors know Adrenal Fatigue
Low Adrenal function or "Adrenal fatigue" is a common cause of low energy.

The Adrenals are small glands on top of the kidneys that regulate energy and stress responses.
Cortisol has anti-inflammatory action, and our Naturopathic Doctors screen for Cortisol abnormalities in allergic and autoimmune diseases.

Poor morning energy, with a midday energy dip are two textbook symptoms of adrenal fatigue.

Hypoadrenalism (also known as adrenocortical insufficiency or "adrenal fatigue") is a really seen as a failure of the adrenal cortex to secrete sufficient amounts of hormones to meet a person's physiological needs.
Unfortunately, Medical doctors typically fail to acknowledge subtle forms of Adrenal insufficiency other than Addison's disease (the most severe form of adrenal insufficiency) which can be life-threatening low levels of hormones.
At our Naturopathic clinic, and in our experience and the experience of our Naturopathic and Functional medicine colleagues, a spectrum of Adrenal function exists and subtle declinations in levels of key Adrenal hormones such as Cortisol and DHEA can impact energy dramatically.
Furthermore, because of the interplay between the Adrenals and other systems like the Thyroid, hypocortisolism can have a profound effect on numerous other subsystems.
Signs and symptoms of hypoadrenalism & adrenal fatigue may include: fatigue (the most common symptom - especially morning fatigue) weakness, nausea, salt craving (due to drops in aldosterone secretion), low blood pressure or orthostatic hypotension (a drop in blood pressure from laying to standing), low blood sugar and poor tolerance to stress. Some patients report being exhausted after sexual activity or vigorous exercise. Mood swings, brain fog and memory changes are also possible issues with suboptimal adrenal function.
Cortisol is responsible for mobilizing fats, proteins (through gluconeogenesis) and carbohydrates to maintain blood glucose in a narrow range and low adrenal function can be a cause of low blood sugar levels for this reason.
Another layer of the adrenal cortex produces DHEA - because it is predominantly produced by the Adrenals, DHEA (actually DHEA-s) levels are also a good indicator of adrenal fatigue other than Cortisol levels. Aldosterone secreted from the outermost layer of the adrenal cortex increases sodium and water retention to maintain appropriate blood pressure.
Periods of prolonged stress or even one larger stressor (eg. financial, death in family) can cause adrenal exhaustion and consequently low Cortisol, DHEA and Aldosterone.
From cholesterol, pregnenolone is processed to make Cortisone which is then made into Cortisol.
Adrenals and Cortisol are also involved in the circadian rhythm and sleep cycles so our Naturopathic Doctors often see aberrations in Cortisol causing sleep dysregulation. Cortisol follows a diurnal pattern with levels highest around 8 am and lowest between midnight and 4 am.
High or Low night time Cortisol can contribute to difficulty falling asleep or frequent waking (or both) - Our Naturopaths have observed low Cortisol being a more frequent occurrence in our Edmonton patients than high night time Cortisol.
Our Naturopathic Doctors typically prefer Salivary adrenal testing for both DHEA and Cortisol - it's a time tested methodology that is cost effective and has major clinical utility.
However, in the last few years Urinary Cortisol Testing has emerged as being another way of quantifying free Cortisol but also giving us background data on Cortisol metabolites as well as the inactive form (Cortisol). Urinary Cortisol Testing is great but is often too expensive for many patients.
When in doubt our Naturopathic Doctors do well with an AM Cortisol Salivary test (and perhaps adding a DHEA to saliva or blood) which is usually just over $100 whereas a comprehensive Urinary Adrenal Panel can be anywhere from $300-$500 in Edmonton which on it's own is frequently manageable but can become extremely prohibitive when done with other hormones in the context of a hormone workup.
Blood based Cortisol testing is "quick and dirty" it's cheap, fast but is extremely susceptible to fluctuation.
Key Adrenal Nutrients
Vitamin C is by far the most important Adrenal nutrient and appears to more helpful for optimal Adrenal function if it's paired with bioflavonoids (as it appears in nature). Vitamin C for adrenal function is best dosed a few times per day (most conveniently at the same time you take Adrenal support) - most patients require 2-4 grams per dose.
B5 or Pantothenic acid is second in line after Vitamin C for optimal Adrenal function. Producing Adrenal hormones is energetically demanding and requires B5. Along with each dose of Vitamin C, we often use Pantothenic acid in doses of around 500mg. Magnesium is also crucial in the energetically demanding Adrenals so it's next in line and doses of around 150mg are suggested along with B5 and Vitamin C is our most fatigued Edmonton patients.
Secondary Adrenal nutrients include Vitamin E, Niacin/B3 and B6 in particular but the entire B Complex is needed for the Adrenal hormone cascade so it's better to include a good quality activated B Complex for Adrenal function.
Remember to always talk to your MD or ND before taking stuff you read online :)
Key Adrenal Supplements
In our experience, Adrenal Glandular products are by far the most useful for Adrenal restoration. They not only provide significant support but can also be extremely helpful in restoring lost Adrenal function.
Siberian Ginseng is an Adrenal tonic our Naturopaths like to use if there is fatigue, stress and possibly affected immunity. Ashwagandha is a good normalizing Adrenal support that is purported to boost Cortisol when it's low and decrease it when it's high. Also known as GANDHA or Withania, it can be good for sleep issues, stress and when there are simultaneous Thyroid concerns.
Dietary Strategies for Adrenal issues
1/4 tsp of salt added to your water. Snacking in between meals with balanced snacks (a mix of carbs and protein or fat). Get your food allergies and sensitivities tested!! Unnecessary immune activation will require Cortisol. Caffeine is thought to be problematic as it is stimulating to already ailing Adrenals...bummer.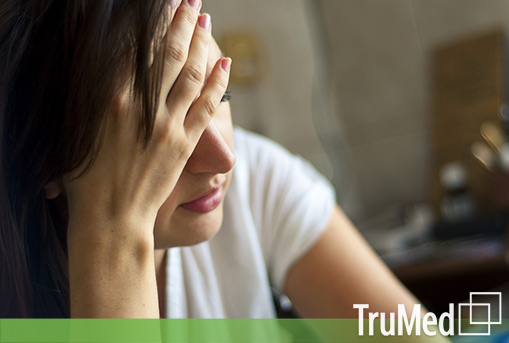 At TruMed, we've got options for Fatigue
Our Naturopaths use Salivary or Urinary Cortisol and DHEA testing as a precise way to test your adrenal health.

Low Cortisol and/or DHEA can tell us that your adrenals need support.

Our Naturopathic Doctors often treat the adrenals and thyroid simultaneously.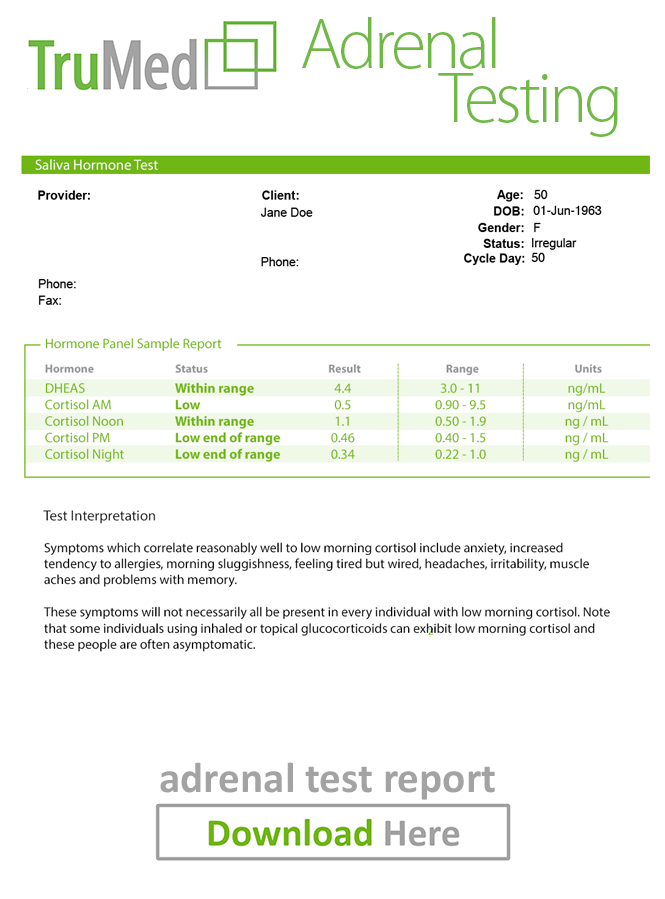 Naturopathic Adrenal Testing in Edmonton


Common symptoms of adrenal fatigue our Naturopaths see:
Poor morning energy
Mid-day energy dip
Best energy in evenings
Brain fog
Low mood
Increased reactivity to stress
Lightheadedness
Waking at 2-4 am
Difficulty falling asleep
Our Naturopaths have tremendous experience with Adrenal health.

We offer a full range of Adrenal treatments at our Edmonton Naturopath Clinic.

We offer herbal, homeopathic, glandular and even IV adrenal supports.
In severe cases, our Naturopathic Doctors may refer you to an affiliate professional in Edmonton for Hydrocortisone, DHEA and possibly Pregnenolone which are all considered "Bio-identical" Adrenal supports and are often combined with already mentioned interventions such as Adrenal Glandular extracts and Vitamin C, B5 & Magnesium.

Support strength is determined specifically by your Adrenal Testing results.
Interested in Adrenal testing and treatment?

Our Naturopaths want to help



(780) 757-8378