Nutritional Testing in Edmonton
Our Naturopaths offer Edmonton comprehensive nutrient testing
We offer Vitamin and Mineral analysis at TruMed Clinic
Vitamin, mineral and nutrients deficiencies underlie many common conditions.

Our Naturopathic doctors offer numerous nutrient testing methodologies to pin-point contributors to health conditions.
Most commonly we begin to investigate nutrients alongside hormones in many of our basic work ups.
Our Naturopaths work with numerous testing methodologies including - serum, packed red blood cells, urine and in some cases through electrodermal analysis (also called VEGA testing).
Nutrient Tests
Urine Iodine Testing - 35% of the world suffers from iodine deficiency! So yeah, Iodine is an important mineral our Naturopaths screen for in our Edmonton patients as we've seen low levels in Alberta specifically.
Part of the reason is that Iodine is difficult to get in the standard Canadian diet since many food sources are insufficient hence the original need for iodine fortification in salt.
We run a ton of Iodine testing in our patients with Fatigue as well as infertility as its role in Thyroid function is well recognized (Thyroid hormone is made of mostly Iodine).
Iodine also serves antimicrobial and antiproliferative functions in the body as well as a role in the creation of histamine.
Our Iodine test also includes Bromine and Cadmium levels which can interfere with the binding of iodine and thyroid hormone conversion respectively.
Our Iodine test also includes Selenium levels - Selenium is an essential element that has an important role in thyroid hormone conversion and antioxidant function (via glutathione).
Urine selenium correlates fairly well with hypothyroid symptoms.
Our Naturopathic doctors have found Iodine deficiency to be an extremely common cause of Fatigue despite normal Thyroid tests so it's a bit of a secret weapon in the treatment of fatigue in our Edmonton patients.
Urine Heavy Metal Testing - Urine Elements are a classic Naturopathic evaluation method for exposure and retention of toxic elements (like lead, mercury and cadmium) and wasting of essential nutrient elements.
Typically by comparing concentrations before and after administration of a chelator "pre and post samples" can be used understand your body retention of toxic elements.
Usually, chronic, low-level exposure to toxic metals that can result in significant retention in the body like from drinking water or dental amalgums. The "pre" test is said to give an indication of on-going exposures.
Our Naturopathic Doctors most commonly use Urine Heavy Metal Testing for evaluation of stubborn cases of fatigue, and some autoimmune diseases as well as some cases of cancer when the history is suggestive of occupational or environmental exposures.
We may consider metals in some cases of Autism and Neurodegenerative diseases like Alzheimer's.
Urinary Organic Acids - Occasionally our Naturopathic doctors will use urine Organic Acid based testing primarily to assess B Vitamin status.
Organic acids are compounds in the urine that are byproducts of cellular metabolism.
High or Low levels of organic acids in the urine can indicate insufficient micronutrients for critical enzymes that are needed in metabolic pathways and can therefore be helpful estimating B Vitamins as well as a few minerals (Magnesium, Manganese, Molybdenum and Zinc).
Our DUTCH hormone test includes a handful of organic acid based evaluations as well - we can screen B6, B12, Dopamine, Norepinephrine and Melatonin and Glutathione status this way via DUTCH.
Our Naturopaths also use Organic Acids in our pediatric Autism spectrum patients as an indication of nutritional as well as in-born metabolic errors and microbial overgrowths.
In many cases for adults, our Naturopathic doctors prefer to give an empiric trial of IV B-Vitamins to assess the role of B-Vitamin deficiency however if we require more specific quantification, Organic Acids can be helpful as blood based B Vitamin Testing can be extremely expensive (other than B12).
Organic acid testing can also help infer Vitamin A, C and E status as well.
RBC elements (Packed Red Blood Cells) - RBC minerals is usually the test of choice for our Naturopathic doctors for assessment of key essential minerals that have imperative intracellular functions.
Red Blood Cell status is believed to reflect long term intake of Selenium better than serum.
It is the only way to properly assess Magnesium levels as most magnesium is stored intracellularly - serum magnesium (the common test available) is kept under tight homeostatic control, and is often found to be normal even when there is a magnesium deficiency because serum levels are raised (at the expense of intracellular levels).
Whole blood is also thought to better reflect intracellular zinc and copper status as well.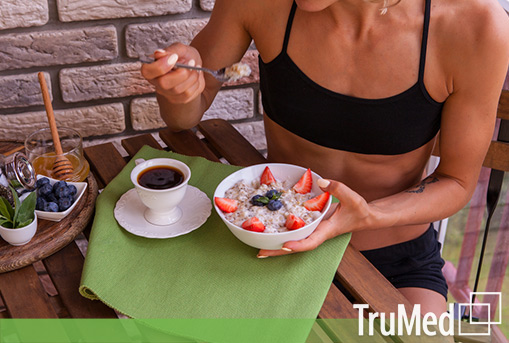 Nutrient Testing at TruMed
Our Naturopathic Doctors use advanced nutritional testing for difficult cases of Fatigue, and many other disorders including Fibromyalgia, Ulcerative Colitis, Crohn's, Celiac Disease, Autism, Hypothyroidism, Athletic performance, Cognitive function, Fertility and Mental Health.

Nutrient testing is also appropriate for our healthy Edmonton patients looking to optimize their health. Your Naturopathic Doctor at TruMed will help you decide the most appropriate test for your particular needs.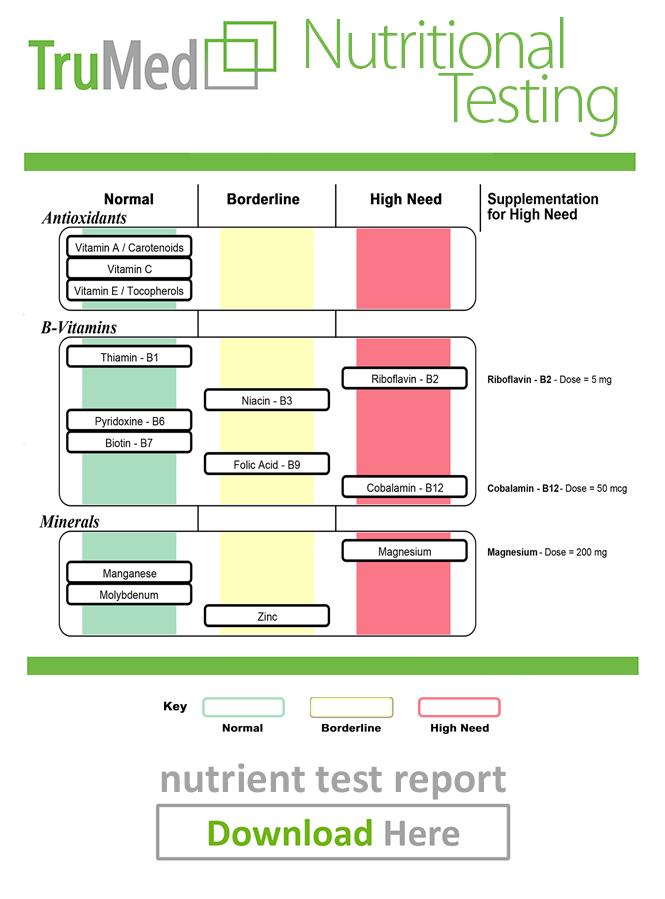 Nutritional imbalances are associated with:
Fatigue
Poor memory
Depression
Low thyroid function
MS
Crohn's & Colitis
Allergies
Frequent Infections
Fibromyalgia
Autism
And many more
Nutritional analysis is most often run by our Naturopaths in cases of fatigue after basic hormone tests have been run.

If you have been dealing with chronic fatigue this testing may be appropriate for you.

If low nutrient levels are found our Naturopathic Doctors often replete Vitamin and Mineral levels both orally and intravenously.

IV Vitamin treatments are a superior way to replenish vitamin levels and improve fatigue and other consequences of nutritional deficiency quickly.
Want to get tested?
Connect with our Naturopaths
(780) 757-TEST